Reference RM6.2 is a 16,5 cm (6,5″) 2-way component with an incredible bass.
The DLS Reference RM6.2 are designed for music excellence, and a sound that you will never get tired of. Being 100 watts RMS, these 2-way component speakers run great off a good quality 2-channel amplifier for added clarity and response. The included crossover will separate high and low frequencies to their respective drivers, which results in a smooth blend of sound. The 1″ tweeter offers very quick response combined with a subtle presence for an excellent all around, balanced tone. The aluminum cone material ensures a quality sound that you and your passengers will love. Give these speakers a try and you will find yourself hearing details in your favorite songs that you have never heard before.
Powerful magnet system.
Designed to play loud but still with full control and good sound quality.
Crossovers with selectable tweeter level in four steps.
Aluminium cone and dual upper surround.
25 mm silk dome tweeter T25.
Grilles are included.
NOTE! The speaker impedance is 3 ohm. If you plan to connect the RM6.2 in bridge mode the amplifier must be 1 ohm stable. Not suitable for CA41 and CA51 amps.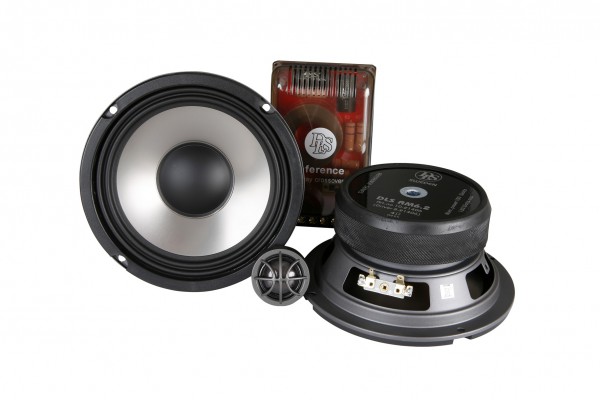 Woofer size
16,5 cm (6,5″)
Tweeter
T25, 25 mm (1,1″) silk dome tweeter
Power handling capacity
100 W RMS / 200 W max
Impedance
3 ohm
Frequency range
30 – 20.000 Hz
Sensitivity
86,7 dB (1W/1m)
Crossover
Filter box with 6/12 dB slope (LP/HP)
Crossover point (Hz)
4500 Hz
Size of filter box
145 x 85 x 45 mm ( 5,71 x 3,35 x 1,77″)
Outer diameter of woofer
165 mm (6,5″)
Magnet size
110 mm (4,33″)
Mounting hole
140 mm (5,5″)
Mounting depth
72 mm ( 2,83″)
T/S parameters
single V/C

Fs
51,8
 Hz
  Re
2,7
 Ohm
  Qms
3,85
Vas
12,3
 liter
  Vas
0,43
 Cuft
  Qes
0,58
Qts
0,51
  Sd
154
 cm²
  BL
6,17